OK here it is . i am over having this lovely blog page sitting here neglected and really there is so much going on that i should post more :)

so i thought i would start with some whats been happening here.

Well the 1st BIG thing is that miss Meghan is 1. And to top it off is pulling herself up on everything in sight. We had a little party for her and it was great fun :) i have sucessfully made it to 12 mths bfing which i am thrilled by and in the 12 mths she's been here anm icky sposie hasnt touched her cute little tushie :)

her cake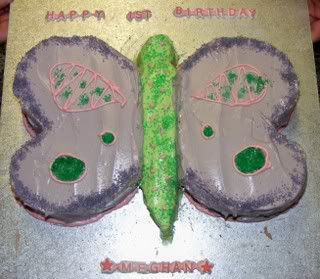 the birthday girl




Liam is getting ready to start his Kinder year and is really really excited :)

and Kaelin is plodding along well as usual. Climbing everything and chattering constantly.. oh & he is on the way to TT'ing

Me - well lots of unfinished work in progress knits that i frogged the other day and some NEW WIP's that i am working on at the min.

Store stuff - well the store is on "holiday" while i create some lovely new woolies and things for the store :) i have a super theme planned and will be reopening late feb/ early march :)

ok i had best be off as there are 2 children nagging for snacks and one miss monster wanting ANOTHER feed. It never ends.